The House of MG, Ahmedabad – Hospitality with heritage
A trip to Ahmedabad happened to us quite by accident. I'm going to put my travel reputation on the line here and admit we ended up on this trip due to a flight sale on non-refundable tickets, an incorrect google maps search and basic blundering on my part. But I'd been to Ahmedabad only a couple of times when I was a kid and Charles never had, so we decided to take up the adventure. While travelling to Tier II Indian cities, we usually prefer luxury hotels (especially the chains because, well while we're always up for an authentic adventure, I prefer a nice place to fall asleep at the end of the day). But when we came across the House of MG, a beautifully tasteful and unique boutique hotel in the old city of Ahmedabad, decisions were made.
First Impressions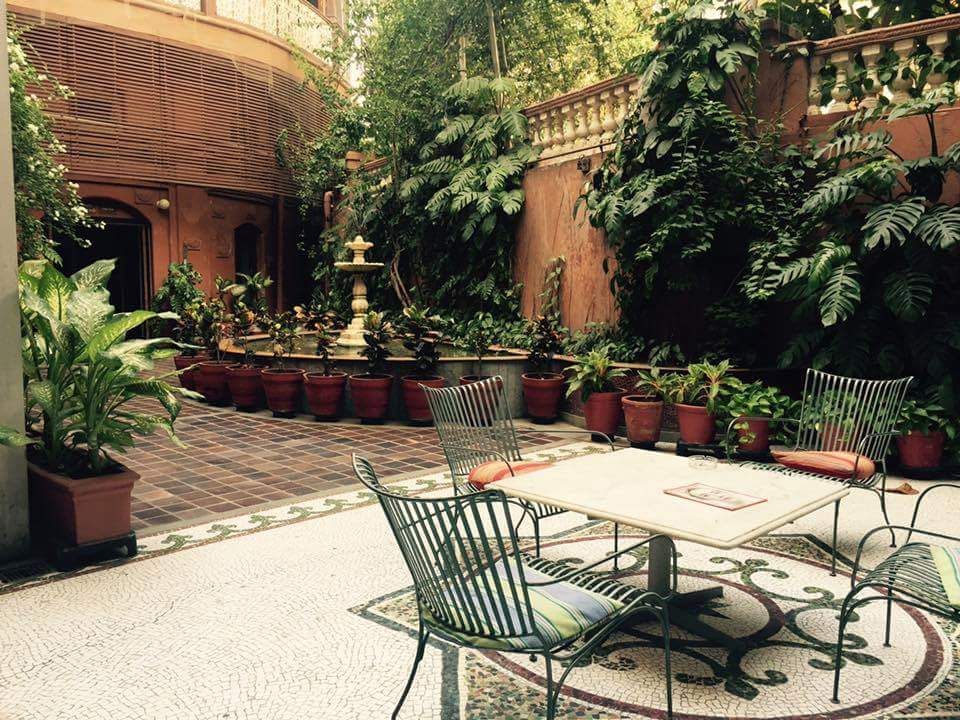 We were greeted at the Airport by a very pleasant (and might I add dignified) driver dressed in the traditional kurta pyjama. The (Wifi enabled) Innova had a little floral basket with cold water waiting for us. Just what we needed in the summer heat. It was a 25 minute ride in the traffic to House of MG, as we passed several points of interest that the driver kept bringing our attention to. His knowledge of the city and its history had already started becoming apparent to us. After a quick check- in, we were shown to our room on the first floor. We climbed a beautiful old wooden staircase, went through a passage and passed a swing right outside our door into our room where the natural air conditioning of the stone tiled floors, high ceilings and wooden ventilators almost made us forget to turn on one of the split ACs in the room. A refreshing coconut drink arrived before our luggage and we relaxed on the swing (yes, there was a swing in our room) flipping through the French and Spanish magazines on the table, as well as the very elaborate information file. Connecting to the WiFi took a bit of tinkering but we finally got in. After updating our social media with enough pictures and posts to drive you followers insane with jealousy, I set my phone down and finally got a good look at the one thing that had been inviting me since I stepped in. A beautiful four poster bed with a canopy of soft white linen flapping lazily in the fan's breeze. A wonderful nap later, we woke up to embark on a bit of an expedition, to explore the hotel.
Turndown service with a poem
The entire hotel used to be the home of Mangaldas Girdhardas (a businessman who made his money in the textile mills) and is now being managed as a boutique hotel by his family. There's a wonderful sense of the history of the house that echoes around every corner and on every wall. Portraits of the women of the house (after whom several rooms have been named as well), beautiful ethnic tiles, wood furniture that most certainly has a past and more. Quaint touches to luxe up the heritage feel of the property like brass switches and switch plates, little creepers in test tubes, carpets and dhurries that are changed every single day, cushions on the swings that are strewn about the property, all of it was just inviting us to make ourselves at home.
While the House of MG has a great location right opposite the famous Siddi Saiyad Jali, it works as a great base from where you can explore the old city around it. But there's enough within it's gates and it did convince us to spend an entire day doing nothing. There's some lovely shopping of Ayurvedic and natural products to be had off a cart at the restaurant downstairs. They have the same toiletries for you to try out in the bathrooms as well. I wouldn't recommend the deep cleansing shampoo which pretty much turned my Keratin treated hair into a bird's nest, but the rest makes for some lovely gifts. There's even more shopping at the store inside, which I think had some rather tasteful finds, coffee table books, incense, purses, jewellery, shawls and stoles and other ethnically themed merchandise. The ground floor also has the gym and swimming pool, but I'm going to let the photo do the talking, because the beautifully painted ceiling reflects in the water,and creates a magical wonderland that I just can't begin to describe. There's quite a collection of books on the bookshelf in the room, and plenty of international magazines strewn on tables around the property. To say the property is a designer's playground would be an understatement. We enjoyed spotting the beautiful textures, patterns and vignettes all over.
A Matter of Taste
To say there are two restaurants at the House of MG wouldn't be just. The first, The Green House sits on the ground floor, a multi-cuisine open air canteen of sorts churns out the South Indian favourites like Idli and Dosa at breakfast, which is just about all right. But the terrace is where one of the city's understandably favourite restaurants sits. Agashiye is a thali joint with a difference. First off, it's definitely well adapted for both Indian and International patrons, with a lovely little brochure that explains the concept of thali (which can be quite confusing for outsiders) Thali is an all you can eat, sit down spread served right into your metal plate and its collection of bowls. Multiple breads, rice, vegetables, stews, lentils, savory cakes, desserts and sweetmeats, I guess the best way I can describe a Thali to the uninformed is, starve yourself a day in advance if you want to do any justice. Spread across a covered and uncovered terrace space as well as two air conditioned areas, the restaurant is unbelievably large, and can get rather packed with people as well. Starting with a jug and spittoon as a portable handwash, the smorgasbord of delicacies that are served in typical cultural hospitality made eating here such a pleasant experience, that we just kept coming back for more, no matter how stuffed we were after every meal. Even if you aren't staying at the House of MG, we would definitely recommend a meal here. (And if two hard core meat eaters recommend a vegetarian joint, there's got to be something to it.)
The House of MG has another well kept secret that was an absolute pleasure to discover.  Mangaldas ni Haveli is a 250 year old home built in the airy, open- to- the- elements Haveli style, with the most intricate wood carvings. A work of art in itself, it served as a cafe and craft centre until logistical issues shut them down. A location identifiable in a popular Bollywood movie, a terrace used for the annual kite flying festival, the building is worth the quick visit from the House of MG if for nothing but to admire its aesthetics, underground reservoir and extraordinary rustic air conditioning system. The House of MG also has an immensely knowledgeable in-house guide cum driver who can take you on any of their package day tours or customise one based on your interests like he did for us.
And is equally stunning from the inside
Doubles from Rs. 11,500 a night
The House of Mangaldas Girdhardas
Opp. Sidi Saiyad Jali, Lal Darwaja, Ahmedabad- 380001, Gujarat, India.
+91-79-25506946
Also Checkout our Dudhani Lake & Hills 
Official Website of Gujarat Tourism.